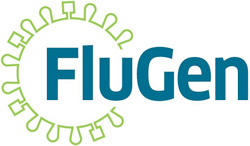 FOR IMMEDIATE RELEASE
June 8, 2010
Contacts:
Paul Radspinner, President and CEO
FluGen
(608) 442‐6561; (608) 658‐6095
PRadspinner@flugen.com
Jennifer Sereno
WARF
(608) 770‐8084
jsereno@warf.org
Agreement with Wisconsin Alumni Research Foundation puts new technology on path to commercial success
MADISON, Wis.—FluGen, a company that specializes in technology to prevent and treat influenza, has gained rights from the Wisconsin Alumni Research Foundation to a new class of antiviral drugs that promises to stop viruses in their tracks after a patient has been infected.
The technology, developed at the University of Wisconsin–Madison and patented through WARF, offers a novel way to prevent replication of the influenza virus. FluGen President and CEO Paul Radspinner said the medical benefits of the antiviral drug—a peptide—are expected to include a unique ability to help patients several days after flu symptoms appear.
"Existing antiviral drugs such as Tamiflu must be administered within 24 to 48 hours after a patient is infected,'' Radspinner said. "Although these drugs help patients in high risk categories who quickly recognize their symptoms and are able to access medical care, treatments with a longer window of therapeutic action would offer an important new option.''
The peptide, a short chain of amino acids, blocks entry of the influenza virus into human cells, thus preventing the spread of the viral genetic code into healthy cells. By interrupting this transmission, the body's own immune system is able to respond more effectively.
The entry‐blocker peptide is part of a new class of antivirals called HA2 inhibitors and can be developed into a nasal spray or oral medication. It has shown effectiveness against the H5N1 "bird flu'' and also is expected to provide broad antiviral activity against many other influenza strains.
In addition to the medicine's wider time window for therapeutic action and its effectiveness against the major types of flu, its targeted impact on the HA2 region of the flu virus means it should take longer for flu strains to develop resistance to the peptide. The major types of flu now circulating around the world already have developed resistance to the two most widely available antiviral drugs including Tamiflu.
Radspinner said growing concern about the limitations of existing medicines and recognition of the flu's impact on public health are leading to an accelerated review and approval process for critical therapies such as the entry‐blocker peptide. Given this changing regulatory landscape, FluGen's antiviral drug could be ready for human clinical trials within 12 to 18 months and could be available commercially in less than five years.
Craig Heim, licensing manager for the Wisconsin Alumni Research Foundation, said FluGen is an example of a startup company that is capable of transforming cutting edge science into products and services that improve human health and well‐being. Although the science behind the peptide discovery is novel and exciting, the technology requires additional high‐level scientific development before it can be considered for commercial distribution. FluGen, which counts acclaimed UW–Madison virology researchers Yoshihiro Kawaoka and Gabriele Neumann as founders and scientific advisory leaders, is uniquely positioned to ensure that the technology achieves key developmental milestones.
"Although larger pharmaceutical companies are moving to invest in flu prevention and treatment technologies, they are generally interested in technologies that are more advanced in their development,'' Heim said. "Companies such as FluGen play a vital role in identifying and advancing innovations from the earliest stages.''
In addition to the new peptide treatment, FluGen is currently developing several other technologies through licensing agreements with WARF. Among them: a faster, more effective and less expensive way of manufacturing influenza vaccines using cell cultures instead of eggs from hens; and a skin patch the size of a poker chip that administers flu vaccine more effectively than a syringe and needle.
With eight employees, FluGen was founded in 2007 and received initial support from angel investors and other sources. Based in the University Research Park in Madison, its first therapeutic product to enter clinical trials will be the entry‐blocker antiviral peptide. The market for influenza antiviral products is estimated at more than $3 billion for 2010.
Since its founding in 1925 to manage a UW–Madison discovery that eventually eliminated the childhood disease rickets, WARF has been working with industry to transform university research into products that benefit society. As a private, nonprofit organization, WARF accomplishes its mission of supporting scientific research by patenting and licensing inventions arising from university discoveries. Since making its first grant of $1,200 in 1928, WARF has contributed more than $1 billion to UW–Madison through annual "margin of excellence" grants and other funding.